I promised to tell a little bit more about my trip to Lumut. There were 3 of us moderators for the team building, my friend C and a guy, M, who is also training in a different field. C is a quiet person and although M says he is an extrovert, our first lunch was filled with forks and spoons clinking in the silence.
Being someone who doesn't like eating silently, I tried to bring up common topics but being amongst people who are from different fields, I soon ran out of things to say. Can you imagine, I used THREE of my Eric's Misadventure Tales which had them laughing as my opening salvo but after that, I got a little tired. Which reminds me I haven't updated more Misadventures in a while. Soon.
View from the lobby.
Anyways, back to the team building, it was actually fun, making others play games which you don't have to be involved in! And at the start of the whole thing, I was about to come down with a flu but fortunately, half of the activities were done outside an air cond room which really helped me recover. Next time you're feeling ill, go outdoors if you have the energy.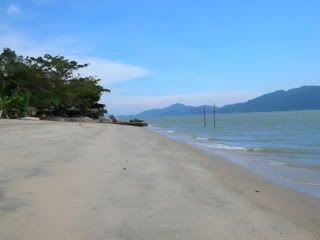 The beach.
As for the location, Damai Laut, I must say it's not somewhere tourists would want to stay because why go all the way there and not hop over to Pangkor Island itself? It could be positioned to attract large groups such as church camps to enjoy the facilities. The staff were excellent though, perceptive and always willing to accommodate.



Views from my room balcony: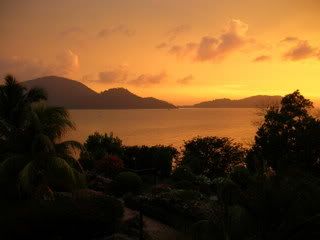 That's Pangkor Island at sunset.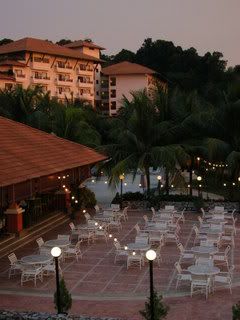 The resort.
We wanted to stop by a chicken farm along the way home to buy fresh eggs but I'm glad we didn't. My friend who used to work in a hatchery says they're not THAT fresh anyway. And it would be totally weird to buy trays of eggs home from a holiday.