KS is so sweet! Since today is a public holiday, he took me on a date last night. Said the place he was taking me was "secret" and for me to pack an overnight bag. The whole day was wrapped in anticipation as I watched the clock at work.

We went to this Italian restaurant somewhere in KL, NEROTICA. The ambiance was great, very cosy and the food was good. This is near where Frangi's is, near Jln Alor. I had swordfish soaked in tomato sauce (NOT bottled ketchup of course) while KS had a breaded pork chop.

Then we drove to the hotel, Dorsett Regency, along Jalan Imbi. First impressions really count and let me explain how going to this hotel was so bad it became hilarious.

Firstly, the car park was dingy, narrow and strewn with office rubbish. I liken it to the car park at Summit shopping centre, with some water dripping from goodness knows what pipe. The lift lobby from the car park also left a lot to be desired for. But when the lift opened, it was well furnished so I thought, okay, maybe this isn't so bad after all.

This was already night and yet there were at least 4 guests trying to check in. With one person at the counter. Who seemed to be taking forever with the customer he was with. Never mind. KS stood in line while I walked around the cramped lobby. I read the first signboard, promoting their band with the most atrocious grammar within the first lines. Another signage said the hotel would not be held responsible for guests "horses or other living animals".

Now, I'm talking about a 4 star hotel right in the heart of KL having these kind of signages. Still, trying to forgive them, I waited until KS was attended to. This concierge guy, while halfway talking to KS, turns to his colleague and said, "Why you never pick up my call just now?

Cibai

..."

My eyebrows raised as he quickly turned back to us and assumed his duties. He was really unprofessional! Then he told us we had complimentary breakfast for 3 days, which I thought was a bit strange so I questioned him about it. "Well, we got it in our system that you'll be here for 2 days".

1. We were only staying for one night
2. You mean, if I stay for 2 nights, I can come back the next day after my stay for a free breakfast?

This wasn't the ultimatum. We got the room key and headed up to the floor. The stupid lift didn't have instructions as to how to get to your floor, as you needed to insert the key card before pressing the desired floor. So we were stuck in the lift until it opened again for another guest to come in and show us how it was done.

Dragging our bags to the rooms, we opened the door and with a start, realised

there was another key card already in the slot to switch on the electricity.

Bewildered, we opened the door further and there was this startled

ang moh

who jumped out from the bed as we tried to enter the room. Thank goodness he wasn't undressed! We quickly muttered our apologies and went down to see the concierge.

We wanted to just cancel it but the guy apologised and upgraded us to their suites for free.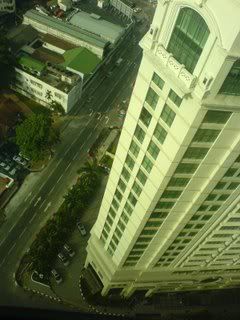 View from our window. That's Ritz Carlton, by the way.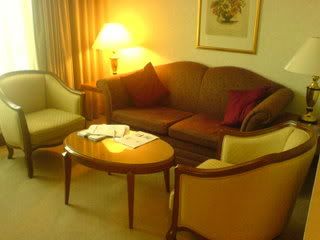 Our lounge. That's KS' work on the table.
The next day as we tried to check out, the person at the counter said she couldn't find us registered under the upgraded room. Which means, our room was considered vacant and we could have had another surprised visitor trying to enter our room that night!
What a laugh! To think they rate themselves 4 stars! We're still laughing over it but you can be sure, we will spread the word NEVER to stay at the Dorsett.