Today, I followed by colleague to spot the latest Airbus 380 (which happens to be the current largest plane in the world). Now, I love watching planes landing and taking off but I never gave thought that there is a bunch of avid "spotters" who meet up regularly (every weekend) and snap every plane that lands or takes off. I met them today.

Well, in this region, they say they started here in KL and now have over 1000 members, with about 30 who are really active. Yesterday there were people from 5 countries who came to spot the A380. Amazing!

But these people are a friendly lot and even though I was holding my mere S3IS PowerShot while theirs were DSLRs, I was not made to feel inferior in any way.

I've learned there are many locations at KLIA to do this spotting. There's Cowboy Town, 32, Spooky Spot to name a few. And I've learned how to spot what planes they are, but only up to the level of big plane, small plane, plane with 2 engines and with 4. I'm getting there!

This is the second A380 delivered to SIA and they are using it for training. It leaves Singapore at 1pm and reaches KLIA at 2pm. Lands and immediately makes its way to the other runway to take-off back to Singapore. Same thing in Singapore. Lands and takes-off. A 2 hour wait in between. Was there from 2pm to 6:30pm. 3 landings.

Anyways, here's some photos of the A380.



Here's when it first landed at 2pm. The front is described as a

dugong

or even a whale.



Here's another angle during its second landing at 4pm.

At the 4pm landing, my colleague and I rushed to this place the spotters call Spooky Spot to watch it take-off. We only had a very short time before it will taxi across the airport and prepares to take-off. Parking his car along the road, my colleague told me to grab just my camera and RUN!

As we ran through this forest, it just reminded me of Blair Witch. My vision was bouncing up and down, my specs gliding off my nose and I was gasping after the first 100m. The forest was eerily quiet and shaded. I could barely keep up with my colleague who slowly became a white speck ahead of me.



Here's the forest.

Ended up panting for breath but

just

in time to catch it taking off.
The rest were already there, standing on ladders and chairs.
Took a video instead since none of the DSLRs could. Will post it up later.

Here are more photos of more interesting planes:



JetStar from Australia. First low cost to Oz, started late last year.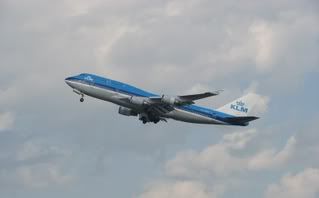 The spotters called this

Ko Lo Mee

. Nice blue.



Manchester United plane by AirAsia.