We had a great Chinese New Year, meeting with family and friends, surrounded with ample food. My parents-in-law had their usual open house on the 2nd day and despite the rushing around, I had a great time meeting KS old school mates again. Here's categorizing the holidays:

Shopping
I had to buy new pants for the New Year so I went shopping… on the day before CNY! Bought 3 pairs from Marks & Sparks. Not happy with the quality and will be returning one as soon as I can.

My sis-in-law brought back my beloved Lush purchases. Lovely lovely scents…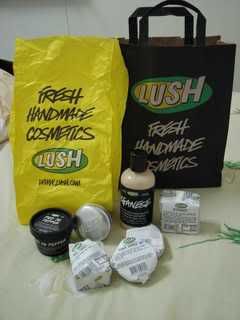 Gadgets
One of KS friends brought his iPhone. Yes, I actually held an iPhone over these holidays. He's using it in Singapore where wifi is everywhere. In Malaysia, it would be a totally cool but useless tool.

At another gathering, another of his friends wanted to show me photos of his working place in China so he handed over to me his D80. It was then when I realized I was surrounded with avid Nikon DSLR fans (another had a D300) so we had an excited discussion about where to get them, what lens (even though I don't know what they were talking about) but wow… the photos look so much better and sharper on a Nikon DSLR. Why I'm actually still thinking about a DSLR is because, somehow, my photos are recently turning out to be very blur and I don't know why.

Which leads me to my next category:

Photography
Took plenty of photos as I had just purchased my first tripod (thought I'd start with a normal one rather than the Gorrilapod). Unfortunately, I wasn't satisfied with the quality of them.

Here are two family shots, both using the tripod.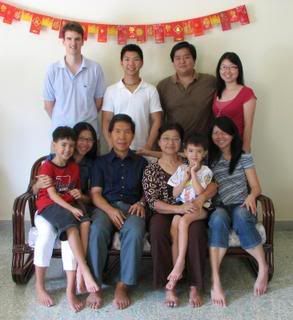 The ISO on the photo taken with my family was not very high, 400, I think but it is soo noisy!



The one with my in-laws had natural light so it was fine.

I took plenty of photos but am not happy at all with most of the shots. Really wondering, is there something wrong with my camera or is it just me?

Dogs
In the course of 4 days, I met 3 dogs. Well, 3 significant dogs anyway.

First, it was a poodle named Elvie (or was it LV?). I didn't take a photo of her. She was banished to Masjid Tanah because the owner who lives in a condo in Selangor had neighbours complaining about the noise while she's at work. Poor gal.

Second was a Great Dane, Goofy. He is gorgeous and has a lovely black coat. Only 11 months, he stands… tall.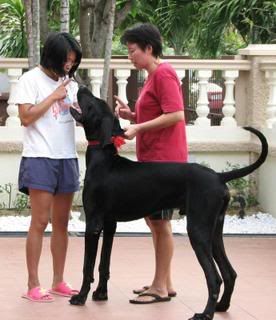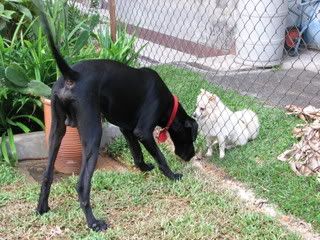 Cowering to a fierce little dog next door

Third one was a beagle, Roxy. She is really lovely. Will wait for photo taken on KS handphone.

Sigh… what a lovely time. But there was a series of folks going into the hospitals too:

Hospitals
My own grandma was admitted to hospital on the 2nd day due to difficulty in breathing. She's out of the hospital now.

One of KS cousins nearly drowned on the 3rd day. He was under water for 5 minutes but thank goodness he's ok. Had internal bleeding due to consuming too much water and was breaking out in spasms.

KS uncle in Ipoh had a fall and hurt his neck on the 4th day. He's almost bedridden due to old age and should still be in hospital.

So, it's been quite a happening 4 days. Will update more when I come back from Ipoh this weekend.