Hmm, I haven't put some photos for some time now on this blog.So here are some photos that I took while I was in Melaka over the holidays. Yes, although there was food, Food and FOOD, I didn't take any.
Anyways, here is a picture of Ah Jin, KS beloved dog who made me his victim number 153. He bit me in 2001 after I tried to wake KS up. If it weren't for his mum and sis who pulled him away but not before one tooth sank into my foot and spewed blood all over the kitchen. Now we have an amiable relationship, he only comes to me for patting when there's no one around or when I have food in my hands. He still gives me the "evil eye" as we call it when he's not in a good mood, that's when either one of us will be locked up behind doors and grills. Here he is seen almost begging for the piece of chicken off the dinner table with his lifting a paw to shake hands, a little trick before he gets his treat.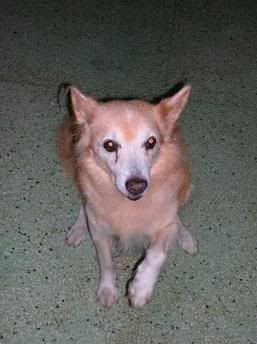 This is a photo of the lotus plant my father-in-law has in front of the house. It blooms every day and the process is so fast that you can actually see it blooming if you stay there watching it long enough.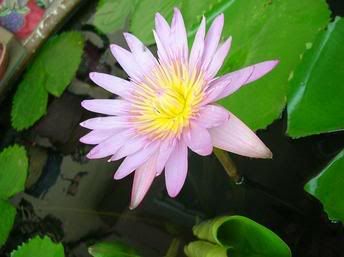 And this cute little puppy belongs to one of KS cousins. This is in Masjid Tanah and he is really adorable. KS was so tempted to bring him home with us but of course I don't think his cousin would have been too happy. Ah Tin looked so scared when I took this photo, poor thing.