I love, love these shots! Was reading some photography website and surfed right into this page. It's about telling a story with 5 frames.
At first, when I saw the first shot, it looked a little bit creepy, with human skulls. Thereafter, the little snowmen really made it so cute and hilarious. Read the comments as people interpret the story.
Here's my take:

Photo 1: Evil skulls keeping vigil of their flame of life.
Photo 2: Suddenly, creeping from the darkness, you see grinning snowmen approaching the skulls.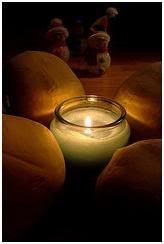 Photo 3: Quietly taking their positions, the snowmen surround the skulls, looking for unobstructed path to the light.
Photo 4: When they are near enough, they suddenly light up and announce their presence amongst the skulls. By then, the skulls are unable to react.
Photo 5: They snuff the light out, still grinning.
Kind of reminds me of grinning evil clowns too.