During Chinese New Year, it is common to see ground nuts in any Chinese home. I don't know what it means but a pack is usually given away as part of the pack with mandarins and other sweet stuff to relatives.

Now, the most popular brand is Cap Tangan.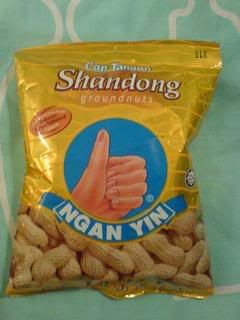 This brand comes in 2 colours, the red packet of more superior nuts and this yellow one which, according to my Dad, is a cheapo one.

Then, the other day, I noticed this one: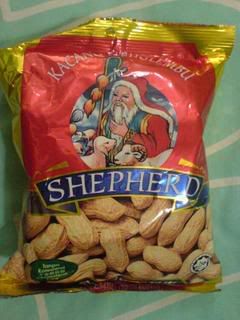 KS, Jan and I couldn't stop laughing just analyzing the picture and brand. Take a closer look.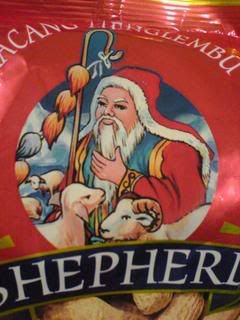 Why I say it is "Christian" is because the brand name is Shepherd, that's one. Then, the shepherd looks like Santa Claus, and there's snow all around him. But wait!! He's Chinese (long straight beard, squinty eyes)! AND he's holding his beard as though he's the Chinese God

Guan Gong

!