I wish I could say my week was filled with loads of exciting things which would explain my week long absence. But other than church meetings, I finally managed to go see An Inconvenient Truth on Thursday at the KLPac. YTL gave away seats for 2 nights and I was one of the first hundred

kiasu

fellas to register for my 2 tickets.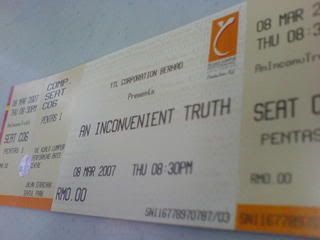 My ticket, taken with my phone while waiting for KS.





The Kuala Lumpur Performing Arts Centre (KLPac), Sentul. Beautiful place.



The first thought that struck me was, why the heck didn't Al Gore think of doing the movie much earlier? He's done his slideshow over a thousand times but he's only doing it one town at a time. This involves the whole world and the earth would have melted by the time he touched down to Malaysia.

Anyways, to me, the facts were unexpected but the urgency became more apparent. Now we're more conscious of the things we need to do (change our light bulbs, save electricity etc).

The frustrating thing was as we drove home to Klang, the smog greeted us as usual. And today at work, I tried to tell my colleagues about the show, I was met with rolling eyes, "Oh, the political Al Gore show". KS has heard someone call it "The natural disaster show".